Cavanagh, Sheila L. (2017) Co-contributed with Chris Coffman, Kate Foord, Patricia Gherovici, Oren Gozlan, Griffin Hansbury, Jordon Osserman, Amy Ray Stewart, Elena Dalla Torre, Simon van der Weele. Transpsychoanalytics. An issue of: TSQ: Transgender Studies Quarterly.

While psychoanalysis has traditionally been at odds with transgender issues, a growing body of revisionist psychoanalytic theory and clinical practice has begun to tease out the trans-affirming potential of the field. This issue features essays that highlight this potential by simultaneously critiquing and working within the boundaries of psychoanalytic concepts and theories guiding clinical work. Featuring a range of clinicians and scholars, this issue centers on questions pertaining to trans* experience, desire, difference, otherness, identification, loss, mourning, and embodiment. The contributors explore these questions through topics like Tiresian mythology, bathroom bans, ethics, popular culture, and the Freudian couch. By setting up this dialogue between psychosocial studies and trans* cultural studies, this revisionist work may radically transform psychoanalytic theory and practice.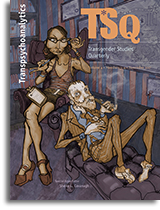 Cavanagh, Sheila L. (2013) Co-edited with Angela Failler and Rachel Alpha Johnston Hurst. Skin, Culture and Psychoanalysis. New York: Palgrave Macmillan.
Skin, Culture and Psychoanalysis queries the intersection of cultural and psychical meanings of skin in the contemporary moment as skin responds to new (and old) pressures and articulations. A variety of topics are herein addressed including the symbolic dominance of white skin, racialization, tattooing, cosmetic surgery, fabric skins, skin eruptions, second skins, the skin in self-harm, and skin as a site of psychic repair. The authors engage an array of objects and approaches from the clinical domain, literary fiction, television, film, video art, photography, fashion design, and poetry. In doing so, they highlight the situation of skin as a socially and culturally mediated exterior simultaneously negotiated at the interior or psychical level. This collection locates skin at the centre of inquiry, rather than as a jumping-off point from which to explore 'deeper' or 'thicker' issues, which tends to happen when skin is treated synecdochically as a stand-in for the body itself. Here, skin is a cultural object, and a psychical object, in its own right.
Cavanagh, Sheila L. (2010) Queering Bathrooms: Gender, Sexuality, and the Hygienic Imagination. Toronto: The University of Toronto Press.
The intersection of public washrooms and gender has become increasingly politicized in recent years: queer and trans folk have been harassed for allegedly using the 'wrong' washroom, while widespread campaigns have advocated for more gender-neutral facilities. In Queering Bathrooms, Sheila L. Cavanagh explores how public toilets demarcate the masculine and the feminine and condition ideas of gender and sexuality.Based on 100 interviews with GLBT and/or intersex peoples in major North American cities, Cavanagh delves into the ways that queer and trans communities challenge the rigid gendering and heteronormative composition of public washrooms. Incorporating theories from queer studies, trans studies, psychoanalysis, and the work of Michel Foucault, Cavanagh argues that the cultural politics of excretion is intimately related to the regulation of gender and sexuality. Public toilets house the illicit and act as repositories for the social unconscious. Also offering suggestions for imagining a more inclusive public washroom, Queering Bathrooms asserts that although toilets are not typically considered within traditional scholarly bounds, they form a crucial part of our modern understanding of sex and gender.
Queering Bathrooms is a GLBT Indie Book Award finalist and recipient of the
CWSA/ACEF Outstanding Scholarship Prize Honourable Mention.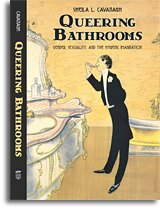 Cavanagh, Sheila L. 2007. Sexing the Teacher: School Sex Scandals and Queer Pedagogies. University of British Columbia Press: Vancouver.
Sexing the Teacher is a provocative analysis of public and professional responses to female teacher sex scandals in Canada, the United States and Britain. Sheila Cavanagh examines the social panic and psychic anxiety over sexual transgressions in education by analyzing several sensationalized legal cases, including Mary Kay Letourneau (USA), Amy Gehring (England), and Heather Ingram (Canada). Deploying queer theory, psychoanalysis, postcolonial theory, and feminist film theory, Cavanagh analyses deep-seated anxieties about white female teacher desire and social subjectivity in the educational milieu. The book goes beyond morality to ask new and unsettling questions about queer sociality in schools. Arguing that foundational assumptions about race, gender, class, sexuality, citizenship, nation and family are key to understanding school sex scandals, Cavanagh questions the conventional wisdom and politics governing our conceptualization of sexual transgressions in education. Sexing the Teacher demonstrates that upset over female teacher sexual transgressions, ostensibly about child welfare, is also about the regulation of gender, heteronormative, and white reproductive futures: a hidden curriculum in Western educational systems.
Timely, original and destined to be controversial this book sets out to undermine moral discourses about childhood and adult sexualities while, also, offering a Foucauldian inspired critique of the damage that gets done in the name of child protection. Concerned not only with the welfare of students but teachers, Cavanagh theorizes the paternalism (and dangers) of legal and professional discourses. Sexing the Teacher makes the kind of "trouble" for educational moralities that Judith Butler's Gender Trouble made for feminist conceptions of sex.
Sexing the Teacher was given honourable mention by the Canadian Women's Studies Association for their annual book award.